EXPERIENCE TECHNOLOGY
Our technology distinguishes us from the rest as we believe that our core focus of providing a positive dental experience is what makes us truly different.
The CBCT visualizes the tooth and jaw in 3D giving an in-depth view and reconstruction, helping us with better diagnostics.
The intraoral video camera provides accurate images of your dental anatomy helping you better understand your treatment options.
Our brand new BIOLASE dental soft tissue laser provides painless surgery, fast pain relief and teeth whitening, all from a single device.
Our latest toy the Medit i500 is a powerful, high resolution, 3D dental scanner that improves client comfort and supplies exceptional graphics of your teeth.
Our Hygienist has a fantastic new machine that will make your hygiene visits that much more comfortable!
PRF Machine
Platelet-rich Fibrin (PRF) or Leucocyte- and platelet-rich Fibrin (L-PRF) is a second-generation PRP where autologous Platelets and Leucocytes are present in a complex Fibrin matrix to accelerate the healing of soft and hard tissue and is used as a tissue-engineering scaffold for dentistry. PRF was first used in 2001 by Dr Joseph Choukroun and his associates specifically in oral and maxillofacial surgery to improve bone healing in implant dentistry. Autologous PRF is considered to be a healing biomaterial, and presently studies have shown its application in various disciplines of dentistry and is currently considered as a new generation of platelet concentrate.es.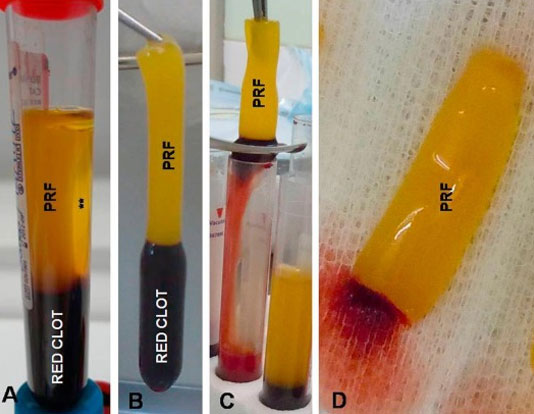 It consists of a matrix of autologous Fibrin matrix in which platelet cytokines, growth factors, and cells are trapped and may be released after a certain time and that can serve as a resorbable membrane in certain situations. To obtain PRF, required quantity of blood is drawn quickly into test tubes without an anticoagulant and centrifuged immediately. Blood can be centrifuged using a tabletop centrifuge for at least 10 min at 3000 revolution per minute.
The resultant product consists of the following three layers; topmost layer consisting of platelet poor plasma, PRF clot in the middle, and red blood cells at the bottom. PRF is available as a Fibrin clot.
Platelet rich Fibrin (PRF) has extensively been utilized in the dental field but many may be surprised to learn that it has far more often been applied in general medicine for a variety of indications highlighted than aware. While PRF was first utilized for the treatment of hard‐to‐heal leg ulcers, it remains interesting to point out that PRF has also been shown to improve a variety of leg and hand ulcers, utilized for facial soft‐tissue defects, chronic rotator cuff tears, acute traumatic ear drum perforations, orthopedics, tendon injuries, management of knee osteoarthritis etc to name a few of its versatile qualities.
Sedation Dentistry
Intravenous Sedation or Inhalation Sedation
For those who had previous bad experiences and anxiety levels, even a regular visit to the dentist can trigger panic and develop anxious moments which heighten the morbid fear of going to a dentist. At Fendalton Dental Surgery, we have the skills to make sure you have a very relaxing and a "Forgettable Experience". We have the latest in Sedation Monitoring with our Capnograph which takes a constant reading of your Blood pressure, Heart rate, Oxygen saturation levels and Carbon Dioxide levels throughout your procedure. This ensures safety to you as well as to the operator.
Our equipment includes state of the art monitoring system, Capnograph which makes sedation a low risk procedure. Since 2007, Dr Keith Chiang has performed over 2200 sedation procedures including IV sedation as well.
We use two different types of sedation:
Inhalation Sedation (more aptly called Relative Analgesia)
Involves inhaling the sedative drug
Decreases pain sensitivity and gives the patient a pleasant feeling
Patients remain conscious and able to co-operate
The effects wear off very quickly after treatment
There are minimal or no after effects
– Subject to medical fitness to undergo sedation
Intravenous (I.V.) Sedation
Involves the injection of the sedative, Hypnovel (Midazolam) via intravenous route ( through the Vein).
Soon after the injection the patient feels drowsy and relaxed, but will remain conscious throughout the treatment.
The level of sedation is much easier to control than with the above two methods of sedation.
Patients usually have little memory of the treatment once completed
Suitable for the majority of patients, however some medical conditions may eliminate this as an option
For safety reasons, patients must have someone to drive them home and ensure their well being after their appointment.
– Subject to medical fitness to undergo sedation
Digital X-Rays
Digital X-ray sensors are used instead of traditional photographic film. These are taken on a daily basis during dental check-ups and identifying a problem affecting the patient. Deep decay, nerve involvement and bone loss are some of the most common situations.
There are no harmful chemicals involved as we bypass the steps involved in Developing and Processing X rays which are now obsolete. The image comes up on the screen in less than 8 seconds and saves a lot of time. Using software, the images can be enhanced or modified during diagnostic or treatment planning.
3D CBCT scan
CONE BEAM COMPUTED TOMOGRAPHY (CBCT) has revolutionized the field of dental imaging. 2D X rays are helpful but not conclusive and definitive at times in difficult clinical situations. That's where we now rely on 3D technology.
Its applications are emphasized in the disciplines of dental implantology, oral & maxillofacial surgery, orthodontics and temoporomandibular joints. Application of CBCT technology in field of Dentistry has increased manifold in recent years. CBCT has a much reduced radiation dosage than medical CT. The exposure, at about three to ten times the radiation of a digital panoramic radiograph, is more comparable to routine diagnostic imaging with panoramic and periapical radiography. It is apparent that a high-resolution CBCT scan, utilized in a diagnosis mode to evaluate an individual abutment, is analogous to taking just 3 digital X-rays. Instead of 2D imaging, this CBCT is a game changer as it can visualize the tooth and jaw in 3 dimensions which gives an in-depth view and reconstruction., thereby helping us with better diagnostics.
The sagittal plane (side-side)–where we can diagnose hard tissues by viewing it from side to side
The coronal plane or frontal plane (vertical)- where we can diagnose hard tissues by viewing it from Front to Back
The transverse plane or axial plane (lateral, horizontal) where we can diagnose hard tissues by viewing it from top to bottom.
EMS Airflow
Amy our Hygienist has a fantastic new machine that will make your hygiene visits that much more comfortable! Check out this video that shows just how amazing this new state of the art equipment is!
Some cool facts about the EMS AIRFLOW®:
Predictable procedure for the removal of biofilm, stains and young calculus from teeth, implants, restorations, orthodontic appliances and from supra and subgingival areas.
With PLUS powder can be used safely and comfortably on all soft tissues including attached gingiva, mucosa, tongue and palate.
Is the only technology that removes biofilm from inaccessible areas such as deep pits and fissures, interdental spaces, misaligned areas, below crown margins, around peri-implant sulcus, recessions and orthodontic appliances efficiently and in a minimally invasive way.
Helps early detection of white spots and caries avoiding unnecessary aggressive dental treatments.
Preserves the integrity of the natural teeth, implants, restorations and soft tissues.
Epic10 is our Undisputed Classic Diode System
Epic 10 is a Classic Diode Soft tissue Class IV (Four) laser which can deliver upto 10kw of peak power, wavelength of 920nm and frequency of 56-60 Hz. The latest model features wireless footswitch technology, stable software with 22 clinical pre-sets, plus a selection of disposable tips for a variety of surgical and non-surgical procedures.
Epic 10 is also a beauty to behold and will add high-tech finish to any operatory with its award-winning design.
Surgery, Pain Relief and Whitening At Your Fingertips
Epic 10 features three distinct treatment modes such as Soft tissue painless and bloodless Surgery, Pain Relief and Whitening procedures from a single device.
1) Laser-Assisted Teeth Whitening – A Better Way to Whiten in the Clinic
BIOLASE offers two Epic diode laser systems that can be equipped with our patented whitening handpiece to deliver fast in-office whitening treatment. Gel and other procedure necessities to perform a whitening treatment are included with every "patient kit."
Whitening is one of the most sought-after cosmetic improvements that patients seek. With a variety of retail and take-home products available, none can achieve the results and immediate impact of in-office whitening.
Research has shown that Epic lasers are capable of delivering 6-12 shades (varies by patient) with less than 20 minutes of gel-to-tooth contact time. The laser energy from an Epic laser interacts with chromophores in the proprietary laser-activated gel to accelerate the in-office whitening procedure.
2) Provide Fast Relief From Pain
Epic 10 is cleared for temporary relief of minor pain, including pain associated with TMJ or other thermomandibular disorders. Epic 10 provides precise settings related to the amount of laser energy dispersed into targeted tissue, with optional Deep Tissue Handpiece.
With more than 39 million adults or 22% of American adults experiencing orofacial pain (Lipton e al, JADA 1993) Epic diode lasers are a powerful addition, helping you deliver a new type of patient experience and generating new revenue for your practice.
In addition to soft tissue and whitening capabilities, the Epic line of diode lasers from BIOLASE provide a therapeutic and non-invasive way to treat pain in as little as ten minutes.
3) Start and Finish Laser Surgeries Faster
Epic 10 is compatible with BIOLASE's patented pre-initiated tips for immediate surgical procedures. does this mean to you? You and your team can get to work faster without having to manually initiate or re-initiate tips. Plus, you can use non-initiated tips for non-contact procedures such as canker sores, cold sores, and pocket therapy.
Clinical benefits of this soft tissue diode laser:
Epic 10 is compatible with BIOLASE's patented pre-initiated tips for immediate surgical procedures. does this mean to you? You and your team can get to work faster without having to manually initiate or re-initiate tips. Plus, you can use non-initiated tips for non-contact procedures such as canker sores, cold sores, and pocket therapy.
Clinical benefits of this soft tissue diode laser:
Relatively bloodless during and after a surgical procedure
Bacterial reduction in the surgical area
Minimal swelling and scarring
More predictable tissue response; little to no tissue rebound or post-operative recession
Minimal or no suturing required
Less postsurgical discomfort & pain
Safe when used near underlying tooth and bone structure
Safe when used around metal
Great patient acceptance
Simple and easy to use
Intraoral Camera
Greater accuracy. Better patient care.
The CS 1500 intraoral video camera helps you to share accurate images of your patients' dental anatomy to provide them with a higher level of service and a greater understanding of the treatment options. This precision tool enhances patient communication and offers high-resolution images for precise diagnoses.
3D Intra Oral Scanner - Medit i500
This 3d Intra Oral scanner simplifies the art of intra-oral impressions (measurements) and improves the comfort of our patients.
The Medit i500 has several unique features as an intraoral scanner and offers various benefits :
The i500 uses triangulation technology to acquire 3D images. As such, unlike confocal microscopy that are used by most intraoral scanners, the i500 does not have any other moving parts except for the fan.
The intelligent scan-detecting algorithm coupled with two high-speed cameras enables the i500 to acquire 3D images quickly and efficiently.
The small tip allows the user to maneuver the scanner in a way minimizing patient's discomfort.
Color texture: The user can inspect scanned data in detail by using the texture mode.
The iScan program, an image acquisition program, seamlessly works with Medit Link so that the collaboration between clinic and lab or internal staffs can be improved.
The Medit i500 is super- convenient for the dentist as it has a single button on the machine. With a click of the finger, we can start or stop the scanning while holding the scanner at the patient's and our own convenience. It produces scans in high resolution and in color, so we can easily distinguish margin lines and tissue.
The scanner itself is lightweight, taking less effort to hold it for extended periods of time. And while scanning, we are able to monitor what is being captured with a 3D in-motion video on the screen next to us. Another aspect to point out is that the i500 is partnered with Medit Link.
Medit Link is an integrated communication system that further enhances the user experience, allowing us to easily transfer scanning files between clinic and lab.